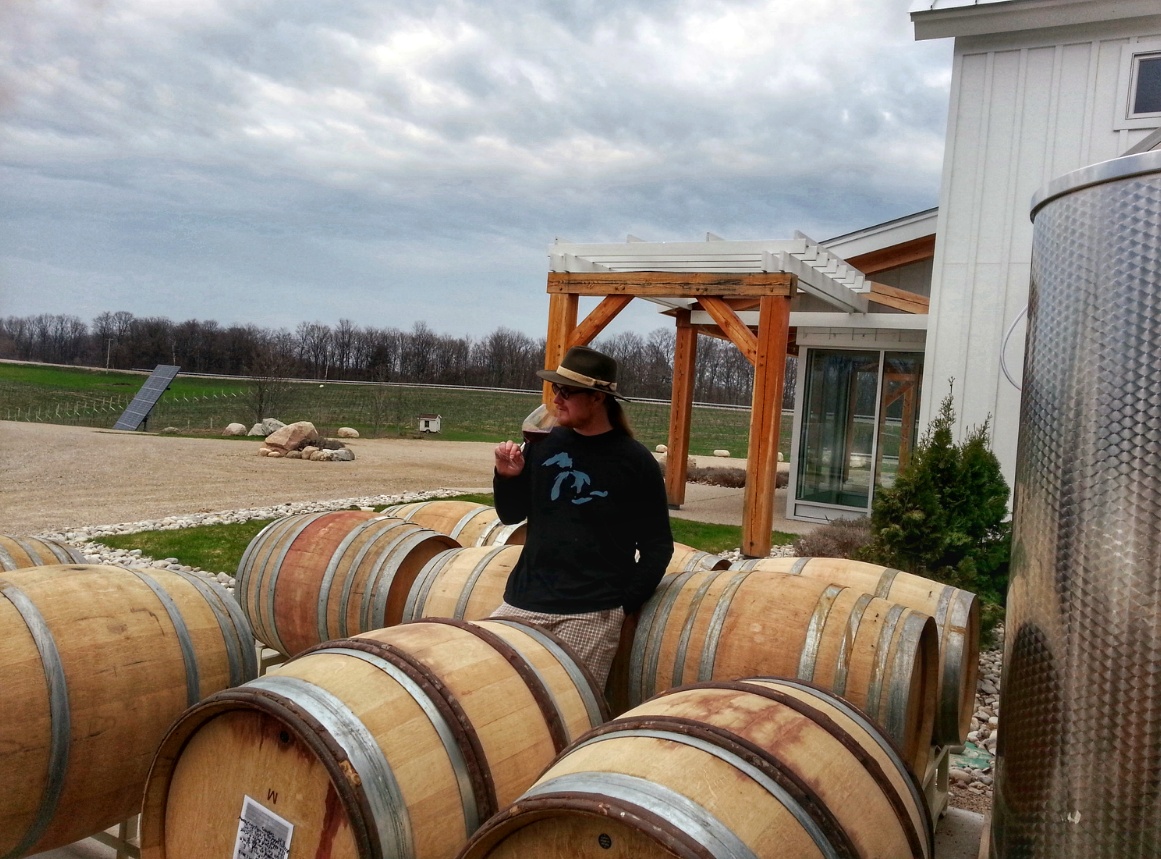 Wine is true art. As an art form, much has been lost in the modern age of mass production. I use classical wine making methods and techniques to craft hand-made, small batch wines of depth, soul, and a sense of place with a deep focus on great reds. I strive to work with the fruit of each individual vineyard and season to produce a unique stand-alone masterpiece. All of my wines are made with great longevity in mind yet delightful vibrancy when young. Every batch is a unique expression of what the grape can become. Postmodern wine art.
To this end, I work with a collection of small vineyard owners in multiple regions of Michigan who's dedication to the vine and love of truly great wine shows through. Every wine is carefully hand sorted. Classic techniques of carefully hand pressing the caps on ultra-small open top fermentations are practiced on every cuvée. Instead of chemical manipulation techniques passed down to me allow me to shape the flavors of the wine using what the grape has to offer. All wines are carefully hand loaded into a basket press to avoid the disruption of pumps. None of my red wines undergo fining or filtering. Instead, the magic of proper time in barrel and carefully repeated racking bring out the clarity and brilliance. Unlike painting and sculpture, wine is alive, thus possessing an element of time in its enjoyment. Thus, each wine goes through aging in-bottle until it is ready to show. Only when the wine says its ready does hand bottling finally occur.
In the end, is a collection of cuvées that, like a great live improvisational musical performance, are unique, have depth, soul, and are expressive. I hope you get the chance to enjoy one of these rare expressions crafted with love for the art of wine-making.
-Nathaniel
Left Bank 2012
Ethereal, complex, seamlessly integrated bouquet, opulent creamy tannins. Perfectly structured and integrated. Styled after the greatest wines to come out of the left bank of the Garonne river in France. The greatest cuveé I have made to date.
Right Bank 2012
Vibrant, aromatic, full bodied with a vast array of flavors both woodsy and fruity. Styled after the greatest wines to come off the right bank of the Garonne river in France. Bright acidity and firm tannins make it wonderful with dinner and cellarable for decades.
La Blonde 2013
Supple, elegant, fruity, floral, supremely creamy, with a touch of earth and spice. A co-fermentation of Syrah with Viognier in the tradition of the northern Rhone. Medium bodied and shows off the vibrancy you can only get in true cool climate Syrah. Unfined, and unfiltered like all of my wines.
Pinot Noir 2013
Bold and dark for a Pinot Noir. A lovely blend of two vineyards combining both Swiss and Dijon clones to fully express what Michigan Pinot is capable of. Layers of fresh fruit while young yet will cellar gracefully.
Marsanne 2013
Orange wine is made by fermenting Marsanne on the skins all the way to dryness. Traditionally in the northern Rhone it was not uncommon to produce whites this way, but the technique has fallen into obscurity. I practice the historical methods with this cuveé.
Viognier 2013
Sublime, phenomenally buttery, fruity and floral. Candy like perfumed nose. Picked extremely ripe. Immense creamy, lushmid-palate. One to enjoy relatively young. I only made a single barrel of this exquisite, bold cuveé
Syrah Single Barrel #42 2013
When recombining barrels after aging I found one especially exquisite barrel of Syrah, and decided it should get to stand alone. An intricate amalgamation of deep flavors. Firm tannins, vibrant acidity, it is intellectual while young and will continue to grow in the bottle.
Syrah/Viognier Domaine Berrien Single Barrel 2013
Robust, meaty, fruity, floral, spicy, and earthy. Its all there with a superfluity of velvety tannins, with a brilliant acid backbone only a cool climate can bring out of Syrah. Produced in the tradition of classic Syrah/Viognier co-fermentations of the northern Rhone. One of my rare masterpieces.
Cabernet Franc 2013 Unreleased
Exuberant, decidedly dark for Franc, powerfully aromatic, where spice, candied fruit, herbal and earthy flavors chase each other around. A strong backbone of bold acidity and firm tannins will keep this cuveé standing tall in the cellar.
Right Bank Domaine Berrien 2013 Unreleased
Dark, vibrant yet nuanced bouquet, substantial yet creamy tannins yielding enormous body with a beautifully integrated array of flavors. Perfect for the lovers of earthy. Styled after the greatest wines to come off the right bank of the Garonne river in France.
Right Bank Edlin Ridge/Gill's Pier 2013 Unreleased
Vivacious bouquet, complex, powerful acidity, robust grippy tannin structure. Supremely versatile in food pairings. Syled after the great blends of the right bank of the Garonne river in France. Eminently cellarable.
Tasting room
1865 N West Bay Shore Dr, Suttons Bay, MI 49682